Just Added Culture Sampler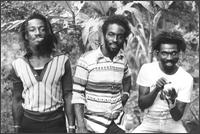 There was a bumper crop of classic Culture albums on the Just Added list earlier this week. Some of them had just a few songs active on them. I've pulled together a sampler playlist for a harmonious, Jah-worshipping, this heah Ah-ma-geddy-on Wednesday.
Culture Sampler
Natty Never Get Weary
Two Sevens Clash
I'm Not Ashamed
Jah Pretty Face
Armageddon
See Dem A Come
Natty Takin' Over
The International Herb
Rally Around Jaho Viah's Throne
Jah Rastafari
Jah Alone A Christian
A Double Tribute to the O.M.