Jumpin' With Symphony Sid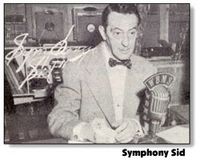 Sid Torrin, AKA Symphony Sid, hosted a live jazz radio show in the 1940's and 50's from Birdland in New York. The show aired nationally on the ABC radio network, and introduced jazz to previously unhip areas of the country. Sid moved from New York to Boston in 1951, where
some
[dirtywater.com] credit him with introducing R&B and early rock and roll to the Boston airwaves. He later returned to New York for a time before 'retiring' to Florida.
His theme, "Jumpin' With Symphony Sid" was written by Lester Young (King Pleasure later added lyrics).
Opinions vary
widely
[forums.allaboutjazz.com] on his role in jazz history. However, his humorous style and legacy of great recordings he was MC for are undeniable.
Truly unusual factoid: Ben Stern (Howard's father) was an engineer for Symphony Sid's radio show in New York for some time.
Here's a playlist of Sid introducing various bands and some fine versions of his theme song. Including nine versions of one song may sound a bit silly and tedious, but the variety of style and instrumentation on these tracks is anything but.
Symphony Sid Playlist
Sid Introducing Miles Davis
Theme by Lester Young
Theme by Poncho Sanchez
Sid Introducing Mongo Santamaria
Theme by Herbie Mann
Theme by King Pleasure
Theme by George Shearing
Theme by Willis Jackson
Theme by Dizzy Gillespie
Theme by Hank Crawford and Jimmy McGriff
Sid Introducing Charlie Parker
Theme by Charlie Parker
(photo from dirtywater.com)