Super Womb Wednesday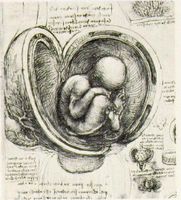 I wish I could remember what record I was listening to that suggested "You may also be interested in the following album:"
Sounds Of The Womb
I'm pretty sure it was a spoken word record by Howard Zinn or Noam Chomsky. Interestingly, Rhapsody also suggested a fan of historical narration may also be interested in Marching Cadences of the US Marines and the Jerky Boys. I tell you, sometimes I think those Rhapsody algorithms can see right into my very soul...