Anita O'day One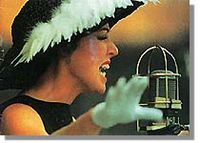 Today is day two of my investigation of musicians I wasn't familiar with who appear in the movie "Jazz On A Summer's Day." On day two I present day one of some music by singer Anita O'Day.
In the movie Ms. O'day started off solo singing a version of Sweet Georgia Brown so slow as to be almost unrecognizable. It was gripping and somehow swinging, despite moving along at about forty beats per minute. Her delightfully off-kilter phrasing and teeth are what stood out most for me. But seriously folks, I loved every minute Anita O'Day appeared on that screen on that stage in that movie. Research for this playlist was a joy. Yesterday I was only able to sift through four of the eighteen O'Day releases that are Rhapvailable. More to come as my research continues...
Anita O'day One
Sweet Georgia Brown
I've Got The World On A String
Watch Out!
Bewitched, Bothered, and Bewildered
Man With A Horn
Harlem On Parade
Stompin' At The Savoy