Anita O'Day Two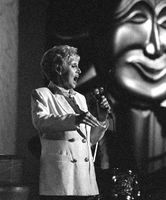 Today the editorial we resume my investigation of musicians I wasn't familiar with who appear in the movie "Jazz On A Summer's Day." On day three I present day two of some music by singer Anita O'Day.
What stood out for me this day was how Ms. O'Day's delivery comes out as simultaneously dry and juicy. I''ll leave it to the jazz enologists to explain that one to me.
It looks like I've got a few more studio records and a later live record to investigate. I'm going in.
Anita O'Day Two
Playlist
Avalon
A Woman Alone With The Blues
Peanut Vendor (El Manisero)
Easy Living
Can't We Be Friends
Boogie Blues
Up State
Tenderly
Four Brothers
Blue Champagne
Don't Be That Way
Peel Me A Grape
(photo from
tonyspage.com
)