A Playlist Vaguely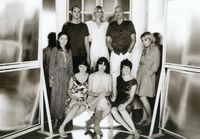 Soon after I woke today, Making Plans For Nigel jumped out and promptly began running around in circles through my mind. So it's decided, today's playlist is a sampler from the Nouvelle Vague album.
Guns of Brixton from this record appeared on Amanda's Sunday News playlist from last week. It stood far out from the other tracks. In brief, Nouvelle Vague is a record of new wave songs put to a bossa nova beat and sung by a crop of chanteuses too young to have ever heard the originals. What's not to like? There's plenty of background and an illuminating video on the
web site
.
Gee whiz factoid from the site: Making Plans For Nigel was XTC's biggest hit, but was written by bass player Colin Moulding, not Andy Partridge.
Nouvelle Vague Sampler
Making Plans For Nigel
Love Will Tear Us Apart
Teenage Kicks
Guns of Brixton
Too Drunk To F**k
A Forest